CURRENT CURATORIALS: 1. Small Guage Film Cult Classics 2.Existential Art Across Time and Media
RECENT CURATORIAL: 2003-4 NYFA Film Grant Winners Festival Tour
PAST CURATORIALS and ASSISTED or SPONSORED PROJECTS
ONGOING COLLECTIONS HOUSED AT eMediaLoft.org
CURRENT CURATORIALS: 1. Small Guage Film Cult Classics 2. Existential Art Across Time and Media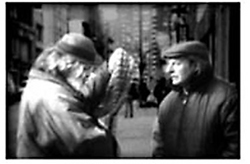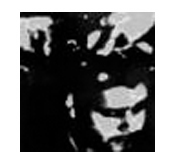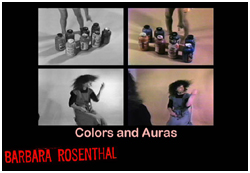 "He Stole My Gun"--Bill Creston........................"Alfredo"--Tom Jarmusch................."Colors and Auras" Barbara Rosenthal

1. TUES. SEPT. 20, 2005 ..... 8PM.
SUGAR LOUNGE, 311 Church St, New York, 10013 - (212) 431-8642. 8 pm. Free.
"Flix 'n' Mix" hosted by Dahlia Smith. Complimentary Food at the Bar 7-8pm:
SMALL GAUGE FILM CULT CLASSICS
an evening of S/8 and 16mm films on DV by
BILL CRESTON
TOM JARMUSCH
BARBARA ROSENTHAL
PRESS RELEASE:
Small Gauge Film Cult Classics: Flix 'N' Mix, the weekly event hosted by Dahlia Smith at Sugar Lounge, will present three socially and artistically iconoclastic small gauge filmmakers, Bill Creston, Tom Jarmusch, and Barbara Rosenthal. All three incorporate several film, video and audio formats into single works, and have used production facilities at eMediaLoft.org, NYC. The artists will talk about their films. Sugar offers free snacks at the bar from 7-8, and the free films begin at 8pm.
311 Church St, TriBeCa. 212.924.4893. Tuesday Sept. 20.

PROGRAM:
BARBARA ROSENTHAL
WORDS COME OUT BACKWARDS WHEN SPOKEN TO SCREEN LEFT. 2004, color DV text animation, 1 min.
A vision of language which appeared to Rosenthal one night. Premiered at the Nihilist Film Festival, LA/Santa Monica, CA, Dec. 8, 2004.
CONCEPTUAL ANIMATIONS. 2003, color DV text animation, 6 mins.
Three short animations concerning identity, ethics, and the relationship betweeen people, objects, nature and the supernatural. Includes DOG RECOGNITION, SIDDHARTHA and WORLD VIEW.
REALITY CHECK: WHISPERING CONFESSIONS. 1995, color, DV text animation, 5 mins.
Made with Hi-8 video and Amiga Computer Supers, Rosenthal, as college professor, reports disturbing advances made by one of her students.
COLORS & AURAS. 1986, b&w/color, !/2" open reel and VHS to DV, 4 mins.
Two video cameras, one a B&W open reel portapack and the other a VHS color camcamcorder, record two views of two scenes wherein two people (Sena Clara Creston, age 2, in one set and Hannah Weiner, the poet, in the other) identify colors which can/can not be corroborated by the viewer. Rosenthal generates the auras Weiner sees. This piece was Rosenthal's first video using color, after having worked with Sony portapak for 10 years.
PREGNANCY DREAMS. 1979, S/8 to VHS to DV, 8 mins.
Nude one week before giving birth to her first child, Rosenthal reads from her journals recent dreams of filthy bathrooms, impeccably dressed men, and other parallels. Originally shot by Bill Creston on various S/8 film stocks as a test for his upcoming film of the birth, PREGNANCY DREAMS caused outrage and storm-outs at its 1980 premier at BACA, The Brooklyn Arts and Cultural Center.
TOM JARMUSCH
DREAM. 2005, S/8 to 16mm with video completion, 4-1/2 mins.
Three non-linear linked scenes mixing fiction and non-fiction. Great misadventures, including being lost, run over by a truck, and implicated in the breakdown of three separate projectors in different parts of the world, contribute to the life history of this film. Originally made for the 1995 Antholoy FIlm Archives First International Exhibition of 3-image Films, it was recently remade in video to screen at the August 2005 Chicago Underground Film Festival, "New Visions."
ALFREDO. 2000, color/silent 16mm to video with optical printing, 6-1/2 mins.
Subjective, silent portrait of the 300 pound artist Alfredo Martinez playing video games and shooting guns during his 1999-2000 project at Quiet. Martinez was later tried for attempting to sell two Jean-Michel Basquiat drawings actually belonging to Tom Warren; thus, this film was shown in the exhibition "The United States of America vs Alredo Martinez" curated by James Fuentes.
FRIENDS. 1995, 30 mins.
Improvised narrative video which plays fiction against reality. Cast: Alex Fitzsimons , Mary C. Greening, Terry Baker, Shannon Hall.
BILL CRESTON
5:30 A.M. TAXI REAR VIEW MIRROR. 2003, color, S/8 to DV, 1/2 min.
Captured on film in his rear view mirror while Creston is parked in his cab at dawn, a scene plays out between one man seeking the attention of another. Original voice-over dialogue.

GARBAGE, ETC. 1991, color, S/8, DV remaster 2004, 6 mins.
Four brief funny scenes. Creston acts as well as directs.

DUETS. 1996, color, S/8 to DV, 5 mins.
Humorous dialogue by usually one but sometimes two or three people. Creston's dead-pan jokes are flawlessly timed and poignantly felt. Premiered at "Super-8 Lebt Festival," Austrian Film CoOp, Spittleburg Theater, 1996, when Creston presented a week of films as a guest.

HE STOLE MY GUN. 1994, b&w, S/8, DV remaster 2003, 9 mins.
An elderly derelict (played by Creston) is approached by a passerby (Richard Miller). Screened at Anthology Film Archives NYFA Film Fellows Festival, 2004.

I SAW WHERE YOU WAS LAST NIGHT. 1984, color, S/8 to DV, 14 mins.
Extending the range of Creston's earlier ironic and humorous street-based works, especially RUNNER, LEONARD MOLTZ and OPEN 7 DAYS, this film is a sequences of separate surveillled segments accompanied by original dialog and monologue which permits the viewer direct access to the artist's underlying rationale for voyeurism. The writing, spoken with nuance and inflection by seven artist-actors as voice-overs, reflects an uncanny ear for street talk and gesture. This film so outraged Robin Dickie, curator of the Collective for Living Cinema the year it was produced, that Creston has been banned from a network of alternative film venues to this day. Screened at Creston's solo Cineprobe, Museum of Modern Art, 1989.

Speakers Fees for Rosenthal, Jarmusch and Creston are provided through the Experimental TV Center Presentation Funds Program, which is supported by the New York State Council on the Arts.


2.

Existential Art Across Time and Media: Exhibition and Screenings Schedule To Be Announced.


back to top

CURRENT CURATORIALS: 1. Small Gauge Cult Film Classics 2. Existential Art Across Time and Media
RECENT CURATORIAL: 2003-4 NYFA Film Grant Winners Festival Tour
PAST CURATORIALS and ASSISTED or SPONSORED PROJECTS
ONGOING COLLECTIONS HOUSED AT eMediaLoft.org

RECENT CURATORIAL: 2003-4 NYFA Film Grant Winners Festival Tour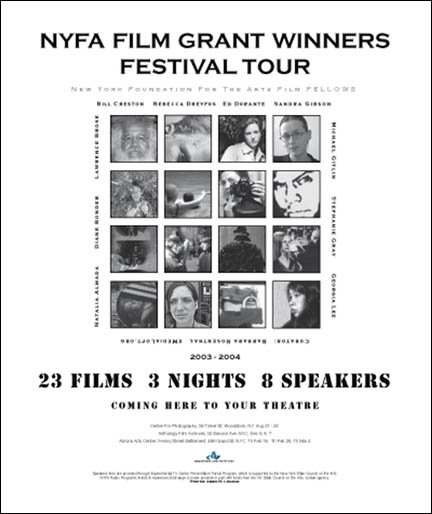 Scroll below for festival schedule and full list of all filmmakers, films, descriptions and running times.
Generous Festival Contributors include Lowel Light, Adwar Video, Glidecam, Rafik, and Ben-Ness Photo Supply. Filmmakers appeared at every screening for a dialogue with the audience and offer signed copies of their films on DVD and VHS. Copies of the festival catalogue and poster are still available through eMediaLoft.org.
2003-4 FESTIVAL SCHEDULE
AUG 21-22, 7 PM: CENTER FOR PHOTOGRAPHY AT WOODSTOCK, 59 Tinker St. Woodstock, NY 12498. Film Shorts and Current Work. www.cpw.org, (845) 679-7747.
DEC. 5, 6, 7: ANTHOLOGY FILM ARCHIVES, 32 Second Ave., NYC 10003 will present the actual films submitted as work samples with their successful NYFA grant applications. These are the films listed below. (Scroll down.)
FEB-MARCH, 2004, 7 PM: ABRONS ART CENTER AT HENRY STREET SETTLEMENT HOUSE, 466 Grand St., NYC 10002 will present films concerning Issues of Identity and Culture, February 19; Characterization in Film, Feb. 27, and Experimental Shorts, March 5.
Filmmakers:
Natalia Almada (Brooklyn)
Diane Bonder (Brooklyn)
Lawrence Brose (Buffalo)
Bill Creston (New York)
Rebecca Dreyfus, Gregory Millard Fellow (New York)
Ed Durante (New York)
Sandra L. Gibson (New York)
Michael Gitlin (New York)
Stephanie Gray (Buffalo)
Georgia Lee (New York)
Jeffrey Lerer (Computer Arts; New York)
Program:
Natalia Almada
1. "ALL WATER HAS A PERFECT MEMORY,"2001, 19min. VHS
Short experimental documentary
2. "AO OTRO LADO (To The Other Side)" (in production)
digital video ö Panasonic Ag DVX100 ö 24p
Diane Bonder
1. "CLOSER TO HEAVEN" 2003, 16 mm, 15 minutes
Using the weather as a metaphor for the stages of grief, Closer to Heaven is a good-bye poem and homage to my dad. Shot on super-8 and optically printed.
2. "IF YOU LIVED HERE, YOU'D BE HOME B NOW", 2001, 16 mm, 15 minutes
If you lived here, Youâd be home by now is about the divisiveness over land, the relationship of public and private space in small town America, and the concept of home. Using documentary strategies, landscape stills are juxtaposed to stories ãripped from the headlinesä of a small-town newspaper. The struggle over public space described in the stories, reflect universal concepts of space, privacy and property ownership everywhere.
Lawrence Brose
DE PROFUNDIS 1997 16mm, color/b&w, sound, 65 mins.
In De Profundis I adopt a three part strategy to investigate the historical implications of sexuality, gender construction, and language; to explore Oscar Wilde's poetics; and to critique the homogenization of the contemporary gay movement. This is a rigorous structural film which employs experimental hand and alternative chemical processing techniques to alter the original images. The transformed footage addresses the fixed framing of masculinity while questioning concepts of redemption, contamination and transgression set against critical readings of Wilde and of contemporary gay culture.
Bill Creston
1. "HE STOLE MY GUN," B&W, sound, S/8, DVD, 9 Mins
In this short absurdist narrative, casting himself as "The Bum," and Richard Miller as "The Man," Bill Creston explores conventionality and uncoventionality, need and desire, pride and human condition. This work was shot in B&W silent film, the dialogue was looped to fullcoat, the audio and film masters were edited double-system and then the film was printed on striped color-stock, and sound transferred.
2. "TAXI, TAXI," color/b&w, sound, S/8, DVD, 15 mins.
Snippets of New York City caught during Creston's 15 years as a NYC cab driver, with scenes scripted and edited, and some actual dialogue recorded. Original soundtrack and song "Taxi-Taxi" by Bill Creston. This film was screened during the Museum of Modern Art's "Big As Life" Series 1997-99.
Rebecca Dreyfus, Gregory Millard Fellow
1. "ROADBLOCK" Color, 16mm, and VHS, 15 minutes
ROADBLOCK is a narrative with an experimental edge, about, Erika, a young woman making a film in order to make a connection with other people. Yet, as Erika begins to audition a series of young, hopeful, actors her intentions becomes more and more ambiguous. Is she looking for a lead actor, is she looking for a boyfriend or is she using the power dynamic of the audition to enact her own drama of intimacy? Written & Directed by Rebecca Dreyfus
Music by Portishead & Yoko Ono
2. "THE WAITING"
16mm, and VHS , documentary, 20 minutes, Black and White
The Waiting explores the intermingling of the two very American institutions: Prison and Marriage.
It is a documentary film portraying the romance of Donna and Raymond—a special relationship because Raymond is in prison. The film accompanies Donna on a visit to prison and the audience is privy to many of the frustrations she experiences as the wife of a convict. The film is shot entirely on location in the South Bronx and at The Sing Sing Correctional Facility.
Ed Durante
1. "AMERICA"
16mm or VHS/B&W, 9 minutes
A stylized glimpse at the New York art scene, where sex and money are more important than a Black painter's talent
Sandra L. Gibson
1. "SOUNDINGS" (2001),16mm, color, sound, 5.5minutes.
A new, yet recognizably traditional avant-garde film that translates a collage of sounds, voices and music into a kaleidscope
film experience - alternating between abstract and concrete imagery.
2. "EDGEWAYS" (1999), 16mm, color, sound, 4 minutes.
A concrete kinetic tone-poem.
Michael Gitlin
1. "SHUDDER (top and bottom)" 16mm, optical sound, VHS3 minutes
The source for "Shudder (top and bottom)" is a piece of found footage on which a 35mm film image finds itself on 16mm film stock. Each
frame of the original 35mm image covers two 16mm frames, with the top half of the original image on one frame and the bottom half
on the next frame. When projected, this misprint becomes a kind of shuddering optical toy, with a dense, collagist soundtrack that
rubs against the complicated visual weave of the images. Shudder (top and bottom) scratches at the fiction of the original footage,
leaving behind, in its phosphene-laden after-image, a throbbing world of lonely danger.
2. "NINE GUIDED TOURS"original format: miniDV screening format: DVD18:30
Nine Guided Tours is an essay on some aspects of the language and technology deployed in turning natural space into commercialized
space. Shot in nine different commercialized caverns, the tape is loosely divided into thematic sections organized around lighting
strategies, the particular syntax of tour guides, the invented social history of caverns, and an underground psycho-topography in which
the cave walls and formations function as a kind of transmitting medium. Like anything else, a cave is an empty space waiting to
be filled with ideology. Nine Guided Tours drifts underground and closely inspects some passages.
Stephanie Gray
1. "I LUVED THIS CITY" (color super 8 or VHS, sound, 3 mins.
A crush on a hard to get city. A Valentine to its buildings melting in snow. Frozen hands trying to focus. Soggy wet sneakers and socks persist through the rough terrain of this luved city. Desperate attempts to perform magic, miracles, and walking on snow without sinking. Do not deconstruct this.
2."ONLY LONELY (for Storm de Hirsch)" (handprocessed b/w super 8 film or VHS, sound, 3 min)
I love this forgotten building and I love the forgotten woman filmmaker, Storm de Hirsh. The Motels' 80s tune is dissected. AKA the film "I Love This Building." If only I had heard of Storm de Hirsch earlier. If only I could save this building. If only I had seen it earlier.
Georgia Lee
1. "THE BIG DISH", 16mm, DVD and VHS, b/w 4mins
Inspired by Martin Scorsese's short film "The Big Shave" in which a young man blithely shaves himself to death, "The Big Dish" features a young girl preparing a meal like no other. The film was made in response to the ten year anniversary of the Chinese government's brutal crackdown on student demonstrations for democracy in Tiananmen Square in 1989.Tthe struggle to reconcile the underlying dualities of diametrically opposed cultural, social, sexual, political, and psychological extremes .
2. "EDUCATED" 35mm, DVD and VHS, color, 11 mins.
A Chinese-American girl is plunged into a surreal and deadly world of familial obligation and societal pressure after she accidentally walks in on her best friend's suicide attempt.With a focus on an Asian-American female perspective, this film explores the broader themes of liberation from both external and internal constraints.
Jeffrey Lerer
GETTING A HEAD GOING PLACES, 1990, VHS, 8 min.
A clay and mixed-media animation about evolution and survival
RIGHT HAND MAN, 1991, VHS, 11:40
A clay and mixed-media animation about adaptation and survival
MEMORY BOX TRILOGY, 1994-5, VHS, 9:20
A mixed-media animation confronting the viewer with a continuous evolving stream of imagery that mimics the evolution of an individual human consciousness. In its later stages, the imagery grows somewhat less abstract and alludes to surrounding socio-political events.
MANUSCRIPT FRAGMENTS FOUND AT THE GILBERT HOTEL, 2001-2, VHS, 11 mins .
Manuscript Fragments Found at the Gilbert Hotel is a 3-dimensional computer animated compendium of vignettes, written in 26 fragments (a-z). Each release, consisting of 3 fragments, presents the viewer with intimate close-ups of life at this hotel of the absurd. Though a story eventually emerges, the script strives to maintain a sense of phenomenological accumulation. The imagery is excavated from the 1950s, framed in painterly composition and color, employing noir and theatrical camera methodology.
If your venue is interested in hosting one or more screenings, the program can be modified to fit your schedule, and can include panelists. Guidelines are as follows:
10 Filmmakers, Three evenings,
Either 6 films plus a panel of 3 or 4 filmmakers each night, or 2-1/2 hours of film plus panel.
Finances:
Theater will advertise festival in its regular seasonal program booklet, and its regular weekly newspaper listings and other customary outlets.
Curator and participants will provide additional advertising and publicity.
Curator will produce catalog for sale at Box Office.
Curator and Theater will negotiate all costs and revenues, with an aim toward making this an inexpensive program which will attract a wide audience.
To receive a catalog or host a screening, please click "Contact Us," and write "NYFA Film Tour" in Subject line.
PAST CURATORIALS and ASSISTED or SPONSORED PROJECTS
MIX Lesbian and Gay Experimental Video and Film Festival, 2004
Swim Across America, 2002
Tethys Project/Robert Schuler, 2005
Indiana Project/Paul Bruner, 2003-4
Video History I; Downtown Community TV Center, 1990
Video History II; Downtown Community TV Center, 1995
Two C.A.P.S. Grant Winners Present Video; Downtown Community TV Center, 1985
Old and New Masters of Super-8, 1989; Anthology Film Archives, 4 evenings of 32 films, 16 panelists.
Old and New Masters of Super-8, 1990; Anthology Film Archives, 3 evenings of 28 films, 12 panelists.
Old and New Mastes of Super-8, 1991; Anthology Film Archives, 3 evenings of 28 films, 10 panelists.
Old and New Masters of Super-8, 1992; Anthology Film Archives, 3 evenings of 27 films, 10 panelists.
Old and New Masters of Super-8, 1994; Anthology Film Archives, 3 evenings of 29 films, 10 panelists.
Old and New Masters of Super-8, 1996; Anthology Film Archives, 3 evenings of 30 films, 10 panelists,
and tour of Austria, Germany, Italy and Hungary.
Catalogs of all 6 Old and New Masters of Super 8 festivals are available for $10 each. Each catalog carries one page per filmmaker with a portrait photo, two films' stills and descriptions, a filmography and bio, as well as festival schedule and lists of Super-8 resources.
ONGOING COLLECTIONS HOUSED AT eMediaLoft.org
Artists' Book Library
Audio Art Collection
Literary Classics Library
Barbara Rosenthal Archives
Bill Creston Archives
To view the collection, please click "Contact Us," and write "Collection" in Subject line.