Visual Arts at The Media Loft include unusual examples of Painting, Sculpture, Printmaking, Drawing, Mixed Media, Works On Paper, Non-Traditional Forms, Artists' Books, Mail Art, Photography, and Fiber Art, sometimes mixed with installation, video, performance, or text.

eMediaLoft is a loose "group" of independent artists, writers, musicians, actors, curators and critics -- some who have never met in person -- who work mostly in NY, Berlin, London and Prague, and have found their own (and each others') work striking, even by open-ended avant-garde standards, but not easy to showcase or publish through "normal channels."

Artists are invited into curatorials, or can apply to exchange talents or services in collaboration with other artists or the studio. Sometimes work is shown or collaborations occur over the net. We are not a "membership organization", not a "non-profit", not a "vanity gallery", not an "agency", and not a "commercial space", although work shown here may be offered for sale.

Artists, writers and technicians can also offer production services on a fee-basis, and we have artists-in-residence, interns, and creative projects grants. There are openings and parties, readings, video nights, etc., open to the public, that we invite our mailing list and Facebook Friends to attend (but do not otherwise buy, sell, trade those lists).

Besides exhibitions and publications created or edited here (in association with Washington Street Press, Xanadu Press, and PlushNY Magazine), artists can produce slides, scans, digitizations, web pages, catalogues, catalogue essays, grant and exhibition preparation, artists' statements, and explore various opportunities to present work to other appropriate venues. Most artists find their way to eMediaLoft.org through each other. At present, there are about a dozen visual artists and writers, and two dozen media artists.

We are also associated with eMediaLoft.com, a commercial venture that produces theatrical photo and video services, which helps provide some income, and some of the people on that site have also created work in our productions. Both eMediaLoft.org and eMediaLoft.com were founded in 1984 by Bill Creston and Barbara Rosenthal, who maintain studios and archives on the premises.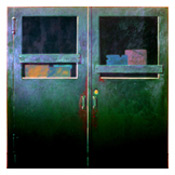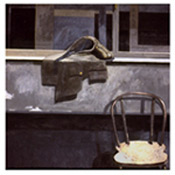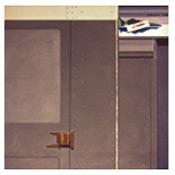 Paintings from Wall and Door Series by Bill Creston, 72" x 72".